Differences Between Public relations and Digital Marketing.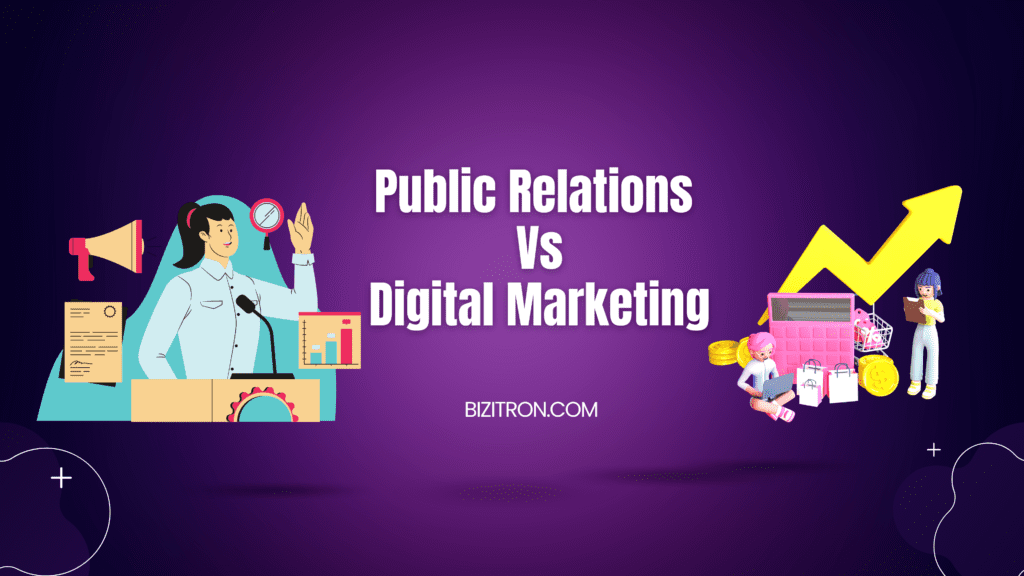 Public relations and digital marketing are so interrelated that many people often attribute the roles of the former to the latter. There is still no clear indication that this misconception will drastically reduce because many newbies in both fields still also find it challenging to state a clear difference between public relations and digital marketing.
Though the two professions share some similarities, however, there are still some basic things that a PR practitioner is obliged to do that are outside the scope of a digital marketer and vice versa.
According to the Public Relations Society of America, public relation "is a strategic communication process that builds mutually beneficial relationships between organizations and the public. While digital marketing is the means of promoting a product or service to a group of people using online channels like email, SEO, social media platforms, etc.
The definition above points out the clear differences between public relations and digital marketing in terms of approach and purpose. For a better understanding of the differences between these two professions, digital marketing focuses on converting audience to customers, while public relations is mainly about building strong brand awareness and managing the positive image of a company.
Another distinctive difference between public relations and digital marketing is that the former focuses on creating stories and relevant information for the internal public and the outward public. On the other hand, digital marketing centers on increasing your company's revenue.
Do you still need an explicit explanation of the differences between public relations and digital marketing?
Want to know if public relations is related to digital marketing?
Want to know why PR and digital marketing work hand in hand and their benefits?
Then keep reading as we will be breaking down all that you need to know about PR and digital marketing.
Key differences between public relations and digital marketing
1. Channels: As the name suggests, digital marketing which is also known as online marketing is any form of marketing that takes place online. They are strictly online activities that are geared towards promoting a product, service or a course. It could be through social media advertisements, email campaigns, brand influencing, SMS campaign, etc.
Public relations on the other hand uses a mixed approach of reaching out to the target audience and achieving their brand awareness through digital and traditional channels. Unlike digital marketers, PR practitioners do not limit their activities online. They stretch beyond online scope by reaching out to the target audience that are not digitally oriented through print publications, radio announcements or event coordination, etc.
In summary, digital marketers focus on using various online mediums to achieve their goals while public relations practitioners focus on using traditional and digital means to get the work done.
2. Purpose: One of the best ways to know the difference between public relations and digital marketing is to understand the purpose of each profession. On average, a digital marketer concentrates on working on different forms of campaign strategies that suit each platform their target audience uses. But PR professional prioritizes gathering relevant stories that will trigger the attention of their audience to improve their brand image and foster trust. PR practitioners also work on updating and managing company messaging to ensure a good flow of information.
3. Measure of success: For public relations, work effectiveness is measured by how well they can influence the target audience and create a positive brand image. Their success metrics is also based on how well they prevent and manage crisis. And in some cases, the number of awards they secure for the company or organization they work with. In summary, a public relations agency measure success by "What the audience used to see this brand as and what they see it as now"
A digital marketer cares less about the number of press recognition a company and organization gets but focuses on how high the ROI on their marketing campaign and the number of followers they get on their social media handles over time.
In summary, the success of digital marketing is measured based on how well the digital marketers were able to achieve their online marketing goals and the return on investment on each campaign. Public relations on the other hand focuses on the success of the information flow between the company and the public plus how well they have been able to manage a positive brand image.
Though there are clear differences between the functions of public relations and advertising, they can still be intimately linked to getting better brand awareness and marketing results.
Why public relations and digital marketing work hand in hand.
1. To build a significant and strong online brand: Since one of the most important brand goals is to have a strong online presence across different social media platforms, implementing PR and digital marketing strategies will help you get your work done faster.
With digital marketing and public relations, communicating with your audience through different means and strategies becomes easier. As a result, you can easily influence your target audience without sounding pushy.
2. Boosts online engagement: One of the wonders digital marketing and public relations do to your online presence is that they foster reasonable and mutual engagement between your company and your target audience. Since communication is a two way process, PR and digital marketing work hand in hand to connect the target audience with the brand and influence them to act (e.g: like, comment, and share social media posts).
3. To improve content strategy: Developing an outstanding and effective content strategy is one of the most tedious duties of a digital marketer. This is because the obligation to stand out and achieve the company or organization's goals can sometimes lead to unrest for the marketing team. This is one of the areas PR helps to lessen a digital marketer's work by providing vital customer information that gives the marketing team hints or directions for the types of content that resonates best with their audience. They also provide testimonials that the marketing team can share on the company's website as social proof to influence visitors to become loyal buyers.
4. Drive more sales: No business can survive without making enough sales, but selling has been one of the most challenging aspects of a business. There are competitors everywhere doing the exact thing you are doing or even better. The ability to influence your audience to trust your brand and patronize you depends on how fast and consistent you make sales. One of the things that stand out to me in my years of experience as a digital marketer and public relations professional is that getting a desirable ROI is a lot difficult without getting the two teams to work together.
Though there are clear differences between PR and digital marketing; however, it is easy to say that relying solely on public relations alone may not give you the best result when it comes to increasing brand awareness and lead generation; vice versa.
We hope this article has explicitly explained what to say and what not to say the next time you speak about the differences between digital marketing and public relations.
Quick note: Now assess your result, think of what you want to achieve but have not, and decide if you need the service of a public relations practitioner or a digital marketer.
---
---